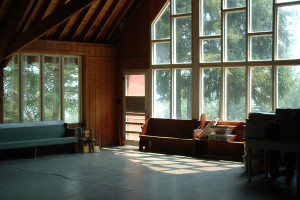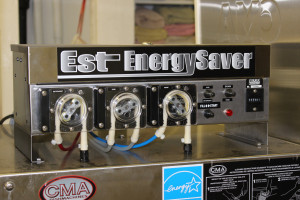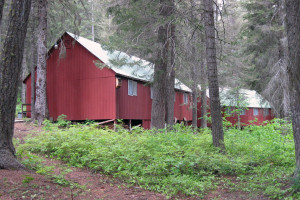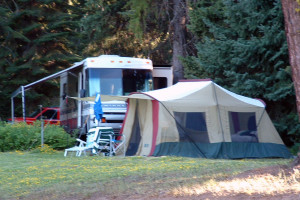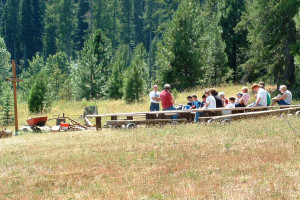 The centerpiece of the Camp is the Lodge, which houses the kitchen, dining hall, and a sleeping area for 18 – 20 people.
The kitchen is fully equipped to handle large groups.  Equipment includes a commercial 6-burner gas range with two ovens, two flat grills, commercial ventilation, a large walk-in cooler, upright freezer, prep and hand washing sinks, and a commercial dishwasher.  We furnish pots, pans and utensils for cooking, dish towels, oven mitts and all cleaning equipment and supplies for you to use at the end of your stay.  There is a dumpster on site for all trash.
The kitchen is inspected annually by the Central District Health Department.  For large groups, it is your responsibility to provide cooks with a current food handlers certificate.
The dining hall is furnished with tables and chairs, plus dinnerware and flatware for meals up to 100 people.
Upstairs above the kitchen is a newly remodeled 2nd floor with 5 bedrooms and a bathroom, plus a 3rd floor open loft for meetings or a bunch of folks with sleeping bags.  Electricity is available throughout.  No bedding is provided.
To house larger groups, there are two bunk houses on site.  Each bunk house is divided into three separate rooms with bunk beds and accommodates up to 30 people.  Each bunk includes a covered foam mattress.  No bedding is provided.
RV and tent sites are available, including electrical hook ups.
The shower house includes separate facilities for men and women, each with two showers, toilets and sinks.  Groups furnish their own paper products along with personal items such as wash cloths and towels and all personal toiletries.
The volleyball court and campfire site are located downhill from the Lodge toward the lake.